See Yourself As Lovers See You
William N. Copley | Dorothy Iannone
13.08.2023 - 14.01.2024
Opening: 13.08.2023, 2 – 6 pm
The Philara Collection is delighted to present two internationally renowned artists in the exhibition SEE YOURSELF AS LOVERS SEE YOU: William N. Copley and Dorothy Iannone. For the first time, the works of the two artists, who exhibited in 1993 under the title BERLINER AMERIKANER (together with the Fluxus artist Emmett Williams) at the Haus am Lützowplatz, Berlin, will be shown in juxtaposition.
The new exhibition at Philara focuses on freedom, self-determination, and the ecstasy of physical love; it highlights the interconnections and differences in the work of both artists, Americans whose careers developed in Europe and who continued to produce remarkably comprehensive bodies of work right up to the end of their lives. From 1951, Copley, an autodidact artist strongly networked in the art scene, devoted himself to painting in Paris. Iannone, who taught herself to paint in 1958 and also had strong connections within the art scene, lived from 1967 in Düsseldorf, Basel and Reykjavik with, Dieter Roth, her partner at the time. Later, after 1976, she lived and worked in her adopted home city of Berlin. Among the works she created while in Düsseldorf is the artist book Danger in Düsseldorf (or) I am not what I seem (1973).
In their shared light-hearted, humorous interrogation of gender, stereotypes, societal norms and the resulting battle with censorship, as well as their celebration of the everyday and freedom, coupled with their playful artistic strategies, Copley and Iannone both gave expression to what had until then been repressed in American art.[1] At the same time, their differing perspectives are revealed through their respective formulations of the repetitive movements of desire, expressed in their own unmistakable individual styles and visual vocabulary. The concept of liberation and the humorous treatment of iconography, symbolism, narrative and text can be discerned in the work of both artists.
The exhibition is generously supported with loans by the Ahlers Pro Arte Foundation; Klaus Gerrit Friese; Kunstpalast Düsseldorf; Linn Lühn; Peres Projects; Barbara Wien and several private collections in the region, among others. Many of the works on loan have not been exhibited to the public for some considerable time. A catalogue of the exhibition will be published by Kettler Verlag at the end of this year.
____
[1] Tal Sterngast's observation, in a Frieze review of 4 March 2020, that 'Copley imposed his own desires on painting's potential to exorcise a truth, introducing what had hitherto been repressed in American art: sex as a psychologically and socially liberating tool.' can, in its own way, also be applied to Iannone's work.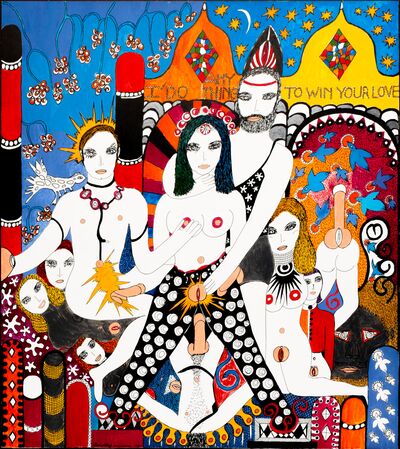 Dorothy Iannone
Love Is Forever Isn't It (The Eternal Calendar)
Detail
1980
© The Estate of Dorothy Iannone
Courtesy of Sammlung Philara, Düsseldorf
Photo: Auktionshaus am Grunewald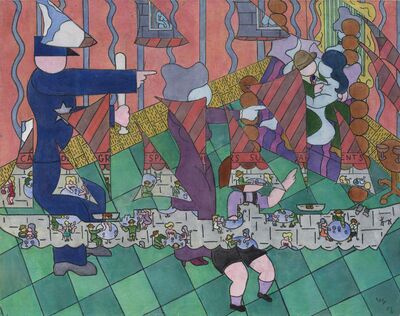 William N. Copley
Ship of Fools
1989
Courtesy of Sammlung Philara, Düsseldorf
© VG Bild-Kunst, Bonn
Photo: Eric Tschernow, Berlin