See Yourself As Lovers See You
William N. Copley | Dorothy Iannone
13.08.2023 - 14.01.2024
Opening: 13.08.2023, 2 – 6 pm
The Philara Collection is delighted to present two internationally renowned artists in the exhibition SEE YOURSELF AS LOVERS SEE YOU: William N. Copley and Dorothy Iannone. For the first time, the works of the two artists, who exhibited in 1993 under the title BERLINER AMERIKANER (together with the Fluxus artist Emmett Williams) at the Haus am Lützowplatz, Berlin, will be shown in juxtaposition.
The new exhibition at Philara focuses on freedom, self-determination, and the ecstasy of physical love; it highlights the interconnections and differences in the work of both artists, Americans whose careers developed in Europe and who continued to produce remarkably comprehensive bodies of work right up to the end of their lives. From 1951, Copley, an autodidact artist strongly networked in the art scene, devoted himself to painting in Paris. Iannone, who taught herself to paint in 1958 and also had strong connections within the art scene, lived from 1967 in Düsseldorf, Basel and Reykjavik with, Dieter Roth, her partner at the time. Later, after 1976, she lived and worked in her adopted home city of Berlin. Among the works she created while in Düsseldorf is the artist book Danger in Düsseldorf (or) I am not what I seem (1973).
In their shared light-hearted, humorous interrogation of gender, stereotypes, societal norms and the resulting battle with censorship, as well as their celebration of the everyday and freedom, coupled with their playful artistic strategies, Copley and Iannone both gave expression to what had until then been repressed in American art.[1] At the same time, their differing perspectives are revealed through their respective formulations of the repetitive movements of desire, expressed in their own unmistakable individual styles and visual vocabulary. The concept of liberation and the humorous treatment of iconography, symbolism, narrative and text can be discerned in the work of both artists.
The exhibition is generously supported with loans by the Ahlers Pro Arte Foundation; Klaus Gerrit Friese; Kunstpalast Düsseldorf; Linn Lühn; Peres Projects; Barbara Wien and several private collections in the region, among others. Many of the works on loan have not been exhibited to the public for some considerable time. A catalogue of the exhibition will be published by Kettler Verlag at the end of this year.
____
[1] Tal Sterngast's observation, in a Frieze review of 4 March 2020, that 'Copley imposed his own desires on painting's potential to exorcise a truth, introducing what had hitherto been repressed in American art: sex as a psychologically and socially liberating tool.' can, in its own way, also be applied to Iannone's work.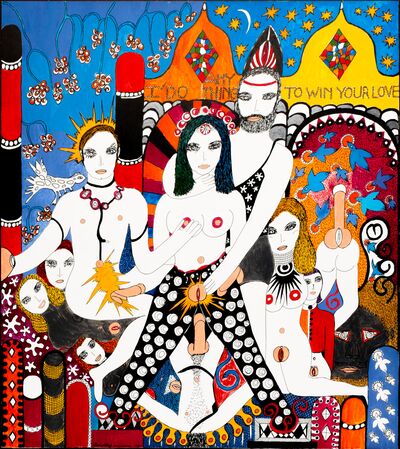 Dorothy Iannone
Love Is Forever Isn't It (The Eternal Calendar)
Detail
1980
© The Estate of Dorothy Iannone
Courtesy of Sammlung Philara, Düsseldorf
Photo: Auktionshaus am Grunewald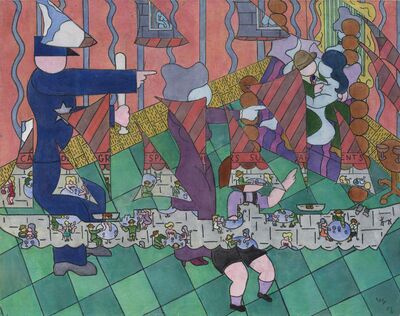 William N. Copley
Ship of Fools
1989
Courtesy of Sammlung Philara, Düsseldorf
© VG Bild-Kunst, Bonn
Photo: Eric Tschernow, Berlin
Front Page Back End
Sebastian Riemer
13.08.2023 - 01.10.2023
Opening: 13.08.2023, 2 - 6 pm
The Philara Collection is pleased to present FRONT PAGE BACK END, a selection of photographs by Sebastian Riemer. This exhibition shows works from his Press Paintings series, which focuses on retouched press photos from 1950s America and references the canon of characters featured in the popular press of that era. These photographs raise questions on the inclusion and exclusion of images in the media, and on the economy of image processing, where similar criteria still apply today.
The 1950s was an era when journalism, particularly in regard to context journalism and image processing, underwent lasting change. As well as printing representations of the politicians, musicians and actors of the day, at this time, figures notable for their attainments in the fields of sport, fashion or beauty were also deemed 'worthy of portrayal'. These images were used and reused many times in reports, and were frequently heavily edited by retouchers, most of whom were women. Riemer's extensive collection of original, edited for print, press photographs, from dissolved newspaper archives, which he buys online, is an integral element of his work. He meticulously selects images to highlight aspects of visibility and cropping, 'beautification' by retouching, strategic image manipulation, and falsification. By enlarging these retouched black-and-white photographic images, Riemer reveals their original, highly strategically positioned, painterly interventions, rendered invisible in the print media by the halftone process of that time, and brings them back into our visual field.
It is no coincidence that these images also make statements on the canon of the economy of the image: among Riemer's selections we discover, for example, the curtailed physical strength of a Black boxer (Boxer (Bruce), 2016), and a female archer (Archer (Tenney), 2020), who has been given a beautifying retouch that is irrelevant to her athletic power. In contrast, a soldier has had his weapon of systemic and concrete violence removed from the image (Sergeant (Gun), 2014). In one of the images Riemer has chosen, the only celebrity photographed has also been removed, in favour of a younger woman; he holds an hourglass that might well indicate that his time has run out (Timely Topic, 2015).
Sebastian Riemer (*1982 Oberhausen) studied under Thomas Ruff and Christopher Williams at the Kunstakademie Düsseldorf. In 2010 he received his Master Student qualification from Thomas Ruff. He was awarded the Cary & Dan Bronner Residency in Tel Aviv in 2017. He has had solo exhibitions at the Kunstverein Recklinghausen, Recklinghausen (2021), the Kunstverein Grafschaft Bentheim, Bentheim (2021), and the Stadtmuseum München, Munich (2019), among others. His work has also been shown internationally in group exhibitions, including at the Paris Photo fair, France (2019); at the Kunsthalle Hamburg (2022); at the Israel Museum, Jerusalem, Israel (2021); at the White Box Art Center, Beijing, China (2017); and at Museum Folkwang, Essen (2017).
The exhibition will be accompanied by an artist's book, to be published by Spector Books during the exhibition run.
In parallel with this exhibition, the Philara Collection is opening its main exhibition, SEE YOURSELF AS LOVERS SEE YOU, with works by William N. Copley and Dorothy Iannone, while a new sculptural installation by Álvaro Urbano, UTOPIAS ARE FOR BIRDS, will be presented on the roof terrace.
Exhibition curator: Julika Bosch
Research associate: Hannah Niemeier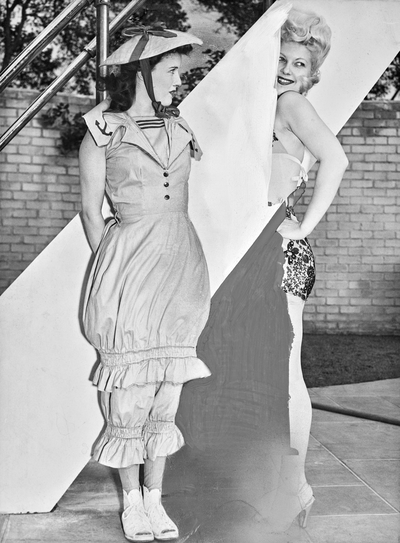 Sebastian Riemer
Elliot (Left)
2021
Courtesy of the artist Galerie DIX9 and SETAREH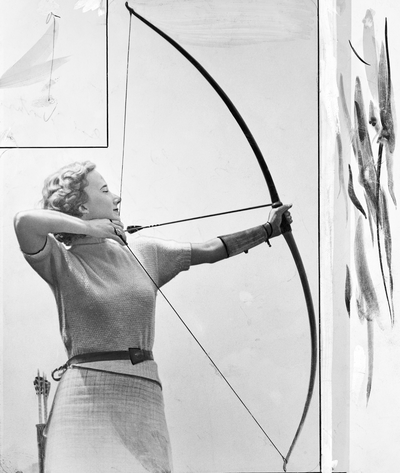 Sebastian Riemer
Archer (Tenny)
2020
Courtesy of the artist Galerie DIX9 and SETAREH
I've Only Got Eyes for You
New acquisitions by the collection
25.03.2023 - 14.01.2024
Opening: 24.03.2023, 6-9 pm
Artists: Jean-Marie Appriou; Kader Attia; Halil Balabin & Merav Kamel; Huma Bhabha; Miriam Cahn; Klára Hosnedlová; Brook Hsu; Anna Hulačová; Rashid Johnson; Melike Kara; Leigh Ledare; Jonathan Lyndon Chase; Kresiah Mukwazhi; Murat Önen; Anys Reimann; Pipilotti Rist; Amy Sillman; Theresa Weber; and Ambera Wellmann.
In its new exhibition, I've Only Got Eyes For You, the Philara Collection is pleased to present a selection of recent acquisitions. The artists featured use collage, painting, sculpture and photography for figurative representations that address both personal and wider societal issues. With and within these works, they explore and extend definitions of the portrait. Through moments of recollecting the past and looking ahead to the future, they help us navigate the present. The debate on our roles and self-location against the background of digital realities and social conditions is multi-layered and complex. The focus of the artists in the exhibition ranges across themes of visibility and representation, and discourses on decoloniality and post-humanity, meeting these challenges with images that seek to make our reality more bearable. Some works thus renegotiate issues of stereotypical gender perceptions, sexuality, power relationships, and experience of violence, while others pursue the quest for complex identity narratives that run counter to the images that surround us every day.
Most of the works in the exhibition were acquired in the last two years; they include work by established artists, such as Kader Attia, Huma Bhabha, Miriam Cahn, Pipilotti Rist and Leigh Ledare, alongside others by internationally active younger artists, including Jean-Marie Appriou, Halil Balabin & Merav Kamel, Kresiah Mukwazhi, and Ambera Wellmann. Artists who have recently featured at the Philara Collection and other exhibition venues in the Rhineland, such as Melike Kara, Anys Reimann, Murat Önen and Theresa Weber, are also represented, some with works never previously shown.
The exhibition title is taken from Pipilotti Rist's 1996 edition of the same name, which also bears the parenthetical subtitle Pin Down Jump Up Girl. This work comprises a hologram photo of the artist herself, mounted on plexiglass and attached with a suction cup to the screen of a television. Here Rist offers a nod towards both the entertainment value of art and the conditions governing its production and collecting. The artist foregrounds her own self-representation, which for her is not merely a means of artistic production, but also speaks to her roles as subject in society, as woman, and as artist. The title, which closely echoes that of a song by composer Harry Warren and songwriter Al Dubin, made famous through hit versions by the Flamingos and Art Garfunkel, also has relevance for presentation of the collection. The canon of a collection of contemporary art open to the public must, of necessity, be accessible and expandable, while the need to take decisions inevitably means forgoing other interesting works. As Al Dubin, the Flamingos and Art Garfunkel sing, "Maybe millions of people go by / But they all disappear from view / And I only have eyes for you".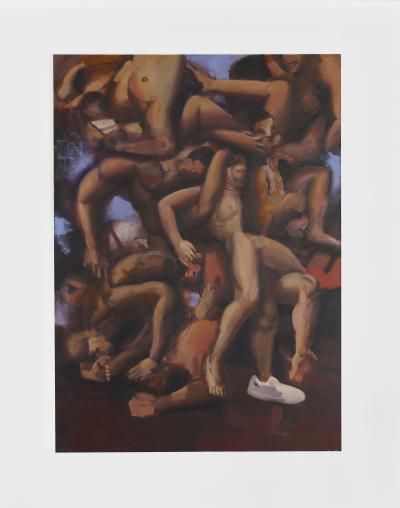 Murat Önen
Longstack, 2022
2023 © Sammlung Philara, Düsseldorf,
Foto: Kai Werner Schmidt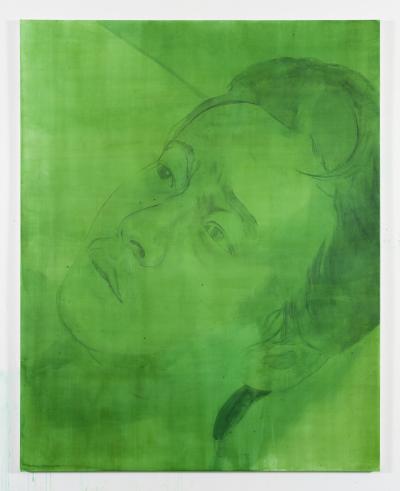 Brook Hsu
Hsiao-Kang, 2021
© the artist, Kraupa-Tuskany Zeidler, Berlin; Sammlung Philara, Düsseldorf
Photo: Stephen Faught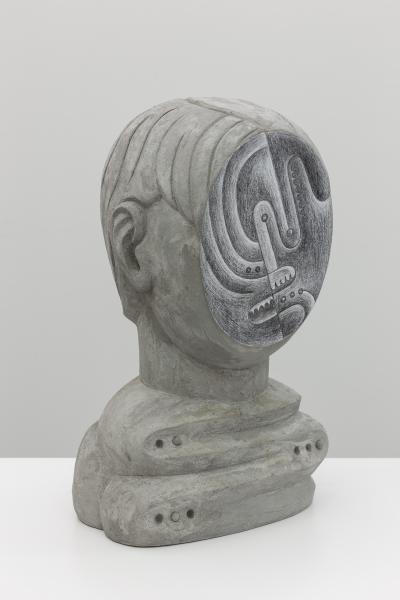 Anna Hulačová
Little Monster, 2021
© the artist; Sammlung Philara, Düsseldorf,
Photo: Bruno Lopes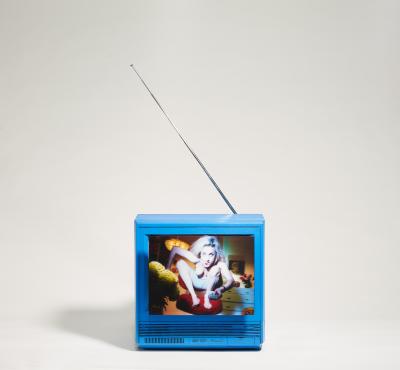 Pipilotti Rist
I've Only Got Eyes for You - (Pin Down Jump Up Girl), 1996
© VG Bild-Kunst, Bonn, the artist, Sammlung Philara, Düsseldorf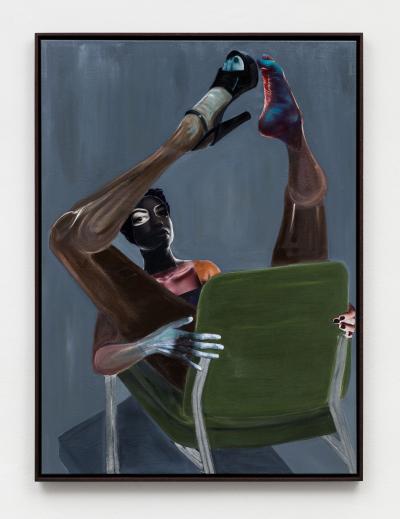 Anys Reimann
peek-a-boo (Guck-Guck), 2022
© the artist, Sammlung Philara, Düsseldorf,
Photo: Johannes Bendzulla