Philara is a private collection of contemporary art comprising more than 1,800 works in such genres as painting, drawing, sculpture, installation, photography, and video. In the mid- 1990s, Gil Bronner began to build his collection, which, with its strong connection to the Duesseldorf Art Academy, has set itself the task of promoting local emerging artists.
2006 Bronner acquired the former Leitz factory in Duesseldorf and established a studio building for approximately seventy local artists many of which come directly from the classes of the Duesseldorf Art Academy. The exhibitions that were in the same building were supported by the association Philara – Sammlung zeitgenössischer Kunst e.V. and became a virtually self-perpetuating event. There was, at the beginning, no real game plan, the exhibitions rather happened as the collection grew organically.
From these exhibitions, Bronner acquired individual works enabling both a documentation of past exhibitions and a continuous extension of his collection where emerging local talents meet established Duesseldorf artists like Thomas Ruff, Katharina Fritsch, Andreas Gursky, and Hans-Peter Feldmann as well as international artists like Alicja Kwade, Kris Martin, Pae White, Rashid Johnson, and Monika Sosnowska. Since 2008, Bronner has presented works out of his collection, initially in three, and later in five exhibitions per year.
Over the past two decades, Gil Bronner's collection has continuously grown, many of the works being acquired from art galleries that are neighbours to the new home of the collection. The new space, which is hidden in a rear courtyard, was formerly a glass factory. It is integrated in such a way that its significant area of 1,700 square meters of exhibition space is submerged into the surrounding structures making it nearly invisible from the outside.
An elaborate conversion of the former glass factory by the Duesseldorf planning office, Sieber Architects, has created
a range of smaller and larger exhibition and performance halls led by founding director Katharina Klang, living spaces for artists, a café, and a 550 square meter sculpture terrace on the roof of the building which was once a rather derelict industrial space.
The majority of the halls have a varying height of 5 to 9 meters and partially enjoy an influx of natural light. Most of the rooms are dedicated to the permanent exhibition and some are designed individually to host specific installations by artists such as: Freeman & Lowe, Tomás Saraceno, and Daniel Steegman Mangrané.
Philara Collection is sponsered by Cary & Dan-Georg Bronner Foundation.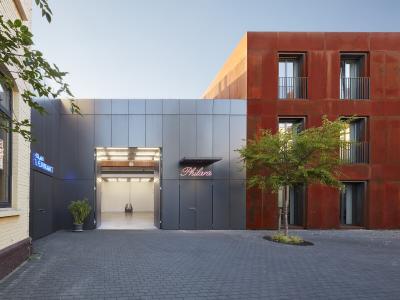 Philara Collection 2019, Sieber Architects, Photo: Paul Schöpfer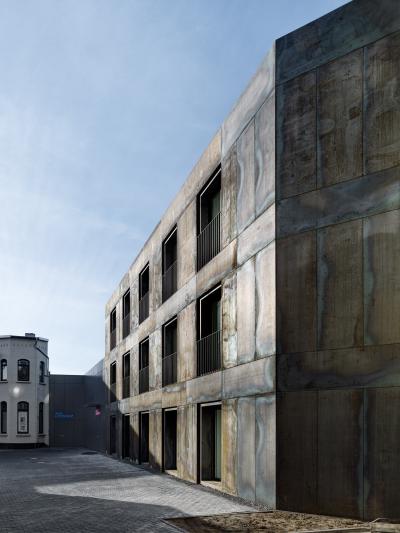 Philara Collection 2016, Sieber Architects, Photo: Stefan Müller
Julika Bosch
Artistic Director
Hannah Niemeier
Research Fellow
Dana Bulic
Curatorial Assistant
Ruben Smulczynski
Collection Management | Registrar
Benita von Puttkamer
Event Managment
Christina Brikmann | Mara Vieten | Stefan Bauer | Simon Ertel | René Gipperich
Guides
Maxi Lorenz | Stefan Bauer | René Gipperich
Front Desk
Laura Catania | Thomas Artur Spallek
Design
Kalle Lenders
Building Services